Youthful and with a serene disposition Fr. Anthony Swamy has all it takes to captain the crew and all on board at Holy Ghost Parish in their spiritual journey to find Jesus in the daily events of their lives as Christians and devotees of Our Mother of Perpetual Help, the patron of Holy Ghost Church. Born on the 28th of June 1974, Fr. Anthony Swamy was ordained on the 3rd of May, 2002 and thereafter has been working zealously in various Redemptorist and Diocesan Parishes. He has also been actively involved in the formation and education ministry of the congregation. Unassuming and ever ready to reach out to those in need, our new parish priest has a cheerful and positive personality equipped with enthusiasm and untiring service. True to all the makings of a Redemptorist, his tenure here at Holy Ghost is sure to take the Parish to greater heights. 
Again the Assistant Parish Priest, is an able and perfect associate the parish priest could have hoped for in the parish team. With a Masters in Social Science (MSW) from the prestigious Tata Institute of Social Sciences, Mumbai, he is both a well-read man and a deep thinker. Since his ordination in 1997, he has been preaching regularly at Masses, Great Novenas, Saturday Novenas and Missions here at Holy Ghost Church and several other Churches and Parishes making him an experienced and a powerful preacher. In addition, he also has teaching experience at St. Joseph's College, Bangalore, making him a wholly rounded person. His last two assignments as the pioneer and Parish Priest of the Holy Redeemer Parish at Sadupadesha and a Missionary in Bolivia where he excelled both as a clergy and a missionary, are indeed feathers on his cap which he can be proud of ! Simple, friendly and approachable Fr. Lawrence greets all who come to him with kindness and humility. He is sure to make an impact on us and leave us as better Christians with his example.
Fr. Louis Raj, born on the 2nd of February 1985 and ordained on the 3rd of May 2014, is an enthusiastic, hardworking and committed priest. With a penchant for preaching and a keen interest in extending his priestly graces towards healing of the faithful from various inherent and acquired illness and mental blocks, he has been actively involved in preaching and conducting healing sessions. He also has an inclination for teaching making him an aspiring teacher as well.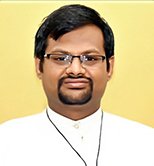 Rev. Fr. John Paul Xavier C.Ss.R was born on 25.07.1988 and hails from Nagercoil, Tamil Nadu. He was ordained on 16.05.2015. Since then he has served in few communities and gained a vast pastoral experience through mission preaching and retreats. He is also a counsellor who did his masters in counselling Psychology. His calm and serene outlook is an added advantage to smell the sheep of God's vineyard. God has blessed him with a heart which can empathize with others who is the right person in this parish.