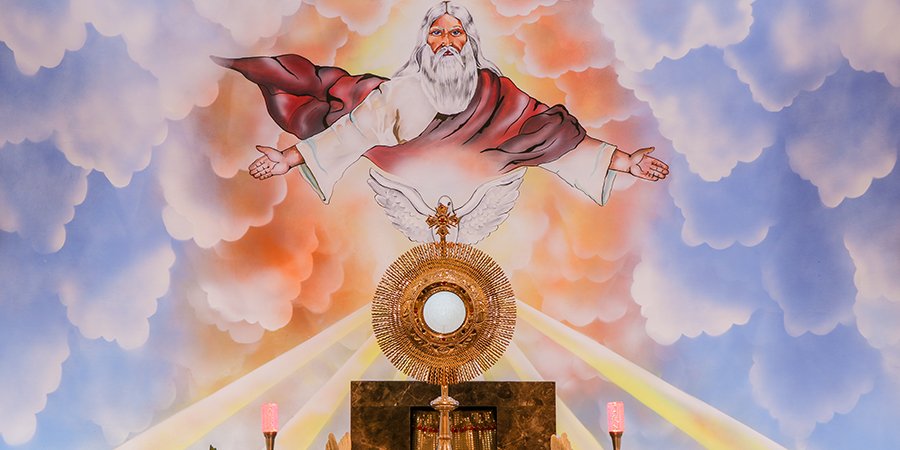 Eucharistic devotions such as Eucharistic exposition and Benediction, Forty hours devotion, Eucharistic Procession and Holy Hour of Adoration have been practiced by the faithful for several centuries. Taking the deep piety of the ordinary folk into consideration, these oldest and most popular forms of the Eucharistic devotions have been fostered in the Catholic Church. In our era, the Congregation for the Sacraments and Divine Worship has ruled that Perpetual Adoration of the Blessed Sacrament in parishes is allowed by the Church. we adore the eternal Word who took flesh, became one of us to enlighten everyone.

Saint Alphonsus gives these suggestions for a visit to the Blessed Sacrament:
• After entering the church or chapel in which the Blessed Sacrament is reserved or exposed, mentally place yourself in the presence of Jesus in the Blessed Sacrament.
• Enter into a conversation with Christ present before you just as you would talk with a trusted friend.
• Pray for forgiveness of your sins and help in correcting your faults.
• Tell Jesus the things that are bothering you, the obstacles in your journey of salvation. Share with him your needs and those for whom you are praying.
• Ask Jesus to grant you greater love of him.
• Continue praying prayers of praise, thanksgiving, and love while in his Eucharistic presence.

In the year 2016, we opened the magnificent Adoration chapel in our church compound. This was given a new divine atmosphere with the painting at the back of the wall which depicts God the Father's arms outstretched to embrace His Son Jesus and the Holy Spirit of God, in the form of a dove hovering over Jesus present in the most Blessed Sacrament. On either side of the projected sidewalls, the two angels of God incense the exposition of the Blessed Sacrament. It is a reminder of what we read "Then I saw between the throne and the four living creatures and among the elders a Lamb standing as if it had been slaughtered "(Rev 4:2; 5: 6). Come! Let us adore the Lord.
Adoration Chapel is open from 5:30 am to 9:30 pm